JP Staff (The Jakarta Post)
Jakarta ●
Fri, May 13, 2022

2022-05-13
14:00
0
e16ff64e7ecc29b417414912230aafb2
1
Lifestyle
fashion, DIY, do-it-yourself, 90s, clothes, accessories, beads
Free

DIY beaded accessories have been seeing a resurgence over the past two years as fashion enthusiasts embrace '90s nostalgia in a "big" way.
Fashion trends have a general tendency to adhere to the 20-year rule, with trends going out of style and then becoming hip again two decades later. This is the case with the '90s trend of nostalgic beaded collectibles, which has resurfaced in the past two years.
Springing from the DIY subculture that seeped into summer camp pastimes in the United States in the 1990s and early 2000s, the beaded collectibles trend has experienced a comeback amid the pandemic. The mindset behind the resurgence is only logical, as the pandemic restrictions mandated everyone to stay at home, where people generally sought activities to fill in extra time.
This is what happened with Olivia Virgiansyah, a 24-year-old employee at a state-owned enterprise who has been wearing at least one beaded accessory since childhood.
"When it trended again in 2021, I explored and bought more beads to craft and [that] was to my advantage, since it gave me things to do at home during "the WFH period, she said.
Beaded nostalgia: Olivia Virgiansyah, a long-time fan of beaded accessories, started crafting her own during WFH under the government's COVID-19 restrictions. (Courtesy of Olivia Virgiansyah) (Courtesy of Olivia Virgiansyah / Courtesy of Olivia Virgiansyah)
On top of giving people activities to do at home, the pandemic also set the beaded accessories trend on a rising course due to the increasing demand for mask straps.
Ever since the trend's revival, Olivia has bought and crafted more than 20 beaded accessories, including dozens of mask straps, along with necklaces, bracelets and rings.
Mix-and-match craze
Some might argue that '90s fashion was a somewhat confusing amalgam, a culmination of a vortex of countless subcultures from preceding eras into a single decade. From hip hop to punk, to grunge and many other subcultures, everything coexisted.
What made matters worse – or better, depending on preference – was how the '90s idea was to mix and match everything, regardless of the item's original notion.
Olivia often wears stacks of mismatching beaded bracelets or necklaces, and that's OK according to the current trend. After all, maximalism, the idea of ​​"more is more", is its core identity.
"The beads convey the message of [being] fun and laid-back, which suits my personality, "she said.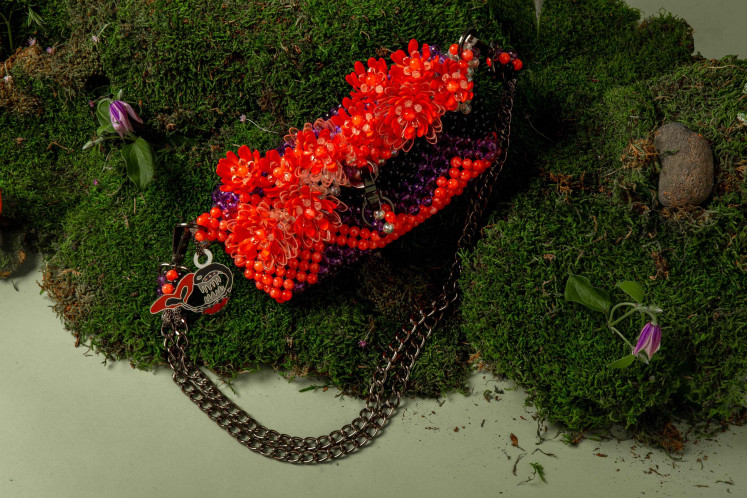 '90s comeback: A red-and-black beaded bag from TAM ILLI is displayed in a product photo. The last two years have seen a revival in beaded accessories. (Courtesy of TAM ILLI) (Courtesy of TAM ILLI / Courtesy of TAM ILLI)
Since most beads are made from plastic, the trend may spark some discussion over its environmental impacts. For instance, the functionalist standpoint would consider how most plastic products are not durable.
This is not the case with the products of TAM ILLI, however. The local brand's designer and founder, Natasha Jasmin Aprilia, aims to tackle that very view and is adamant that it stems from a misconception.
"In my opinion, beads are strong and they have decent durability," said Natasha. "The idea is to create products with [strong and durable] beads that are easy and comfortable to [wear]. "
In 2019, the fashion brand collaborated with bottled water brand Aqua to campaign for a wiser approach to how people can make use of plastics.
To drive this point home, TAM ILLI held a workshop on recycling used plastic bottles to make accessories, showing participants ideas and ways of reconstructing and incorporating used plastic bottles in its products.
"The products we made at that event were brooches, necklaces and bags […] made partly from used plastic bottles, "said Natasha.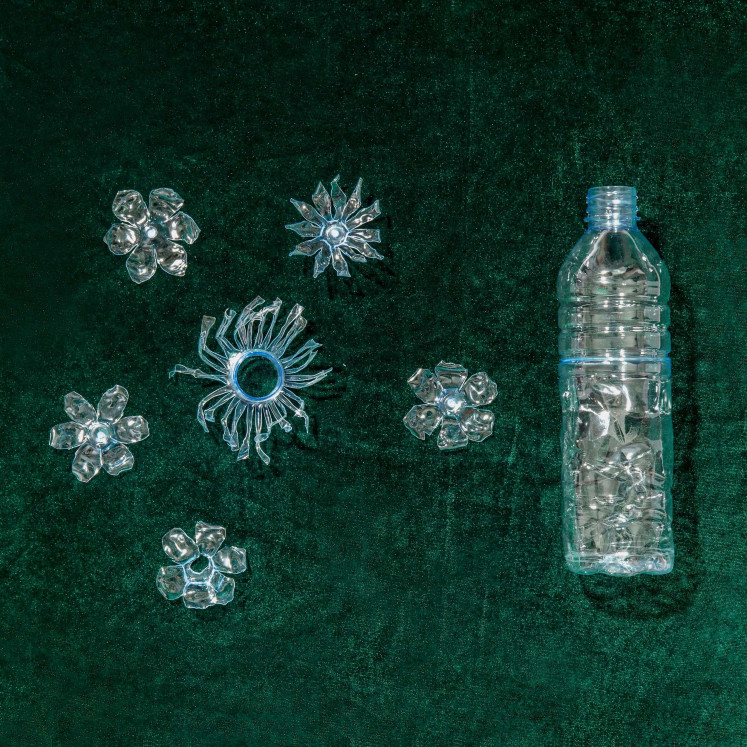 Repurposed craft: TAM ILLI held a workshop in collaboration with bottled water giant Aqua on crafting accessories from used plastic bottles, like the decorative items shown here. (Courtesy of Natasha Jasmin Aprilia) (Courtesy of Natasha Jasmin Aprilia / Courtesy of Natasha Jasmin Aprilia)
Long-time passion
Beaded accessories gained considerably broader popularity this decade after global celebrities such as Dua Lipa and Harry Styles were seen wearing them. The trend even led luxury brands like Bottega Veneta and Balenciaga to follow suit, and local brands joined in no time.
Cosmic Lullaby, which markets its beaded products via e-commerce platforms, is one local business that is benefiting from the complementary trend in beaded accessories and healing crystals. Its 25-year-old owner, Triasa Nitorizki, crafts the personalized bracelets and earrings herself.
Triasa explained that her idea of ​​starting Cosmic Lullaby came primarily from her long-standing passion for handicrafts. "I've loved making handicrafts for as long as I can remember. Probably since I was in elementary school," she said.
She drew her inspiration for Cosmic Lullaby from her interest in the stars. "Cosmic Lullaby launched from my love for astronomy and outer space. That's why the designs are space-inspired."
The process of developing Cosmic Lullaby started in January 2022 and in March, it marked its grand opening.
"Considering that I only started in March, we have sold only around 30 [pieces]"noted Triasa, who sells her bracelets and earrings between Rp 60,000 (US $ 4.16) and Rp 70,000 each.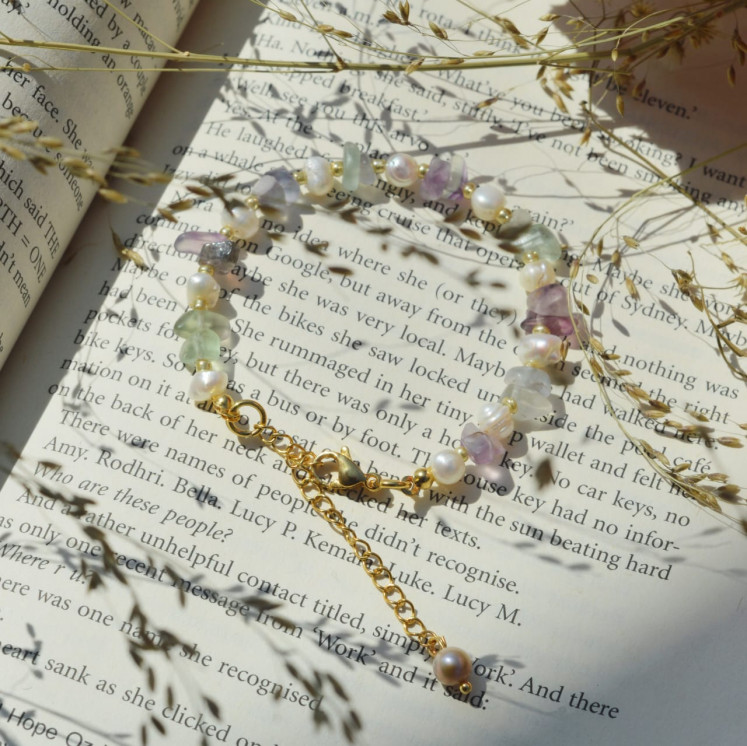 Nod to the stars: Cosmic Lullaby, a fledgling handmade accessories brand, features designs inspired by astronomy, one of the passions of founder Triasa Nitorizki. (Courtesy of Triasa Nitorizki) (Courtesy of Triasa Nitorizki / Courtesy of Triasa Nitorizki)
TAM ILLI, on the other hand, was founded in 2013, long before the pandemic. The brand was initially a side job for Natasha, who worked at a bank at the time.
"My educational background is in architecture, and I've been handcrafting since I was a kid. These two factors became the fuel to grow TAM ILLI," said the 35-year-old.
In 2016, she decided to quit her full-time job to focus on developing TAM ILLI with her two siblings. Natasha said the brand now sells around 20-50 pieces every month.
"From [its] founding until now, we have sold hundreds, or maybe thousands, of products. For bags, average sales are around 20-50 pieces every month, "she said.
The brand only sold beaded necklaces for the first three years but in 2018, it expanded to beaded bags, which have now taken over as its top-selling product at prices between Rp 475,000 and Rp 2.65 million.
"Our pricing is based on how everything is handmade and takes a lot of time to make," she said.
ohmg